Springtime in New Orleans is in full swing, and the glorious weather means there's no better time to get out and about and explore everything the New Orleans culinary scene has to offer. First and foremost, the weather has us craving outdoor dining experiences - whether it's on modern patios or hidden French Quarter courtyards. For the latter, Jewel of the South is an excellent choice–we're especially fond of their caviar happy hour add-on to Sunday brunch service. Likewise, the snazzy patio at Sidecar is an excellent place to throw back some raw oysters and a cocktail or two on a breezy spring day, and you can also never go wrong people-watching while perched up above lower Magazine Street on the wrap-around balcony at Gris-Gris.
Springtime in NOLA also means festival season, and two of the biggest spring fests take place in April. Both French Quarter Fest and Jazz Fest are known as much for their food offerings as they are for their music, so you definitely want to save plenty of room in your stomach to snack your way through both. Having said that, breakfast is still the most important meal of the day, so you'll want to put something in your stomach to hold you over until you hit your first food vendor booth of the day.
Headed to Jazz Fest? There are plenty of quick, filling (but not TOO filling) options nearby, including bagels or breakfast sandwiches from Flour Moon Bagels, breakfast tacos from Pagoda Café, or croissants and other pastries from Leo's Bread.
And finally, you can't really talk about eating in April without talking about crawfish. Although you can find crawfish year-round in New Orleans, when it comes to boiled bugs, spring is king and April is the peak. There are tons of pop-up boils at breweries and bars across the city (more on that here), but if you're looking for crawfish in a restaurant setting, swing by Frankie and Johnny's Uptown or Bevi Seafood Co. in Mid-City. Or try out Viet-Cajun style crawfish at Boil Seafood House on Magazine Street (another spot with a premier balcony overlooking Magazine Street) or Mukbang further Uptown on Oak Street.

Where to Eat in April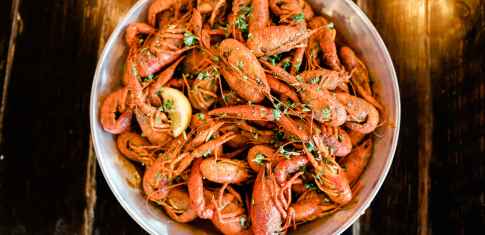 Where to Eat in April